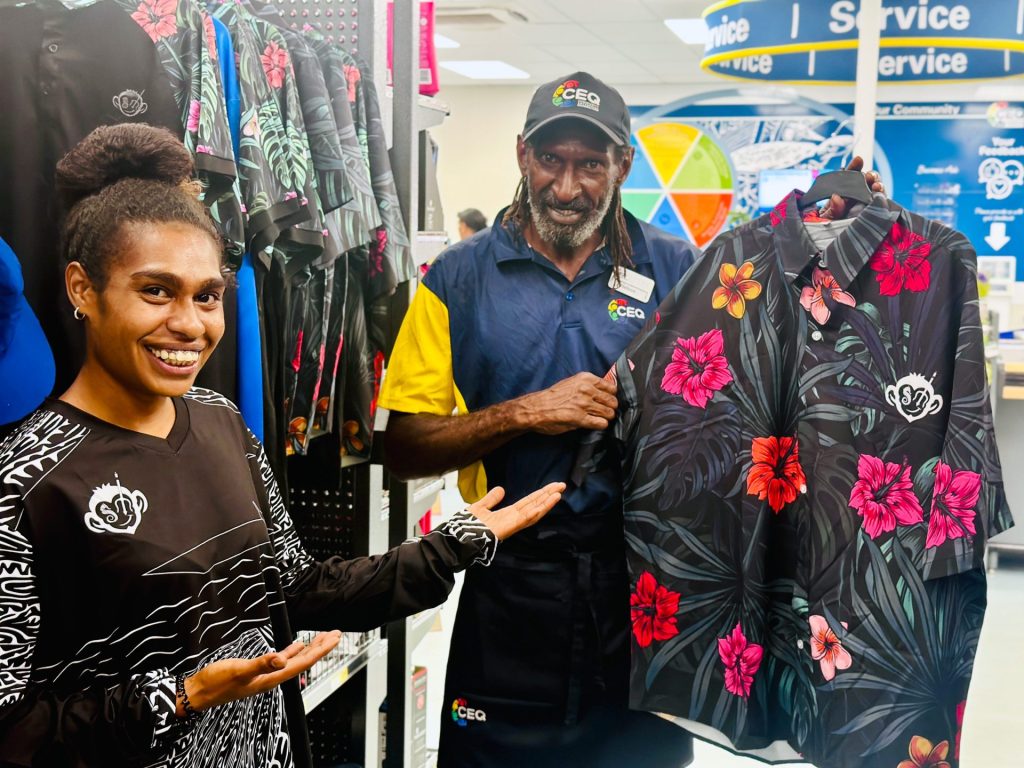 In celebration of Indigenous Business Month 2023 this October, remote store operator Community Enterprise Queensland (CEQ) has reaffirmed its dedication to nurturing and supporting local businesses within remote Aboriginal and Torres Strait Islander communities.
This year's Indigenous Business Month theme – To Gather, Together – is a call to action for First Nations businesses and supporters to connect, share ideas and grow opportunities, further strengthening the broader First Nations business sector.
CEQ's commitment to this is shown through the stories of its support to local businesses JJ Supermarket on Badu Island and Salty Monkey on Waibene (Thursday Island).
JJ Supermarket, Badu Island
JJ Supermarket, a cherished community hub on Badu Island, was recently facing challenging times.
"Rather than seeing the store change hands and local ownership lost, CEQ stepped in to offer practical support, safeguarding local jobs and business," said CEQ Chief Executive Officer Michael Dykes.
"Our involvement went beyond the opportunity to acquire the store, that would have been an easy option.
"Instead we offered planning and range advice, devised store layout plans, and supplied equipment, all at CEQ's expense.
"Training and resources for store layout optimisation were also extended, pending the delivery of equipment.
"The estimated value of this support currently stands at approximately $30,000 – and that is just the beginning."
This initiative was funded through CEQ's 'Good Pasin' (Give Back) program and marks the first-ever comprehensive business support package of its kind delivered by CEQ.
The Good Pasin' reinvestment program provides financial and in-kind assistance to not-for-profit community organisations and individuals in the remote communities served by CEQ.
"'Good Pasin' translated means our 'good way' or means of giving back to community," said Mr Dykes.
Salty Monkey, Waibene (Thursday Island)
Salty Monkey, a thriving local business on Waibene (Thursday Island), is dedicated to manufacturing clothing and accessories responsibly, with a focus on sustainability. Some of their products are crafted using recycled plastic bottles, aligning with environmental consciousness and the social conscience of today customers
Salty Monkey's partnership with local artists brings their trendy apparel and accessories to life, and allows culture and commerce to join together in Indigenous businesses.
CEQ has shown its support for Salty Monkey by providing space in its Bamaga store to trial a range of their products for retail sale.
"Our support of Salty Monkey is an example of our ongoing commitment to empowering local enterprises in Queensland," said Mr Dykes.
"CEQ firmly believes in the power of local businesses to drive economic growth and community development.
"We are also dedicated to fostering economic prosperity and preserving local traditions under our Vision of 'Caring, every day, always.
"We are proud to support these enterprises and look forward to seeing their continued success."
Since its establishment in 2015, Indigenous Business Month is an annual celebration that occurs every October, shining a spotlight on the resilience and ingenuity of Aboriginal and Torres Strait Islander businesses.
__
CEQ is a not-for-profit organisation responsible for providing goods and essential services to the Torres Strait, Northern Peninsula Area (NPA), mainland Aboriginal remote communities, and Palm Island through its 28 stores.
CEQ manages Islanders Board of Industry and Service (IBIS) and Aboriginal Business, Industry and Service (ABIS) stores, as well as other stores including Col Jones, Mona's Bazaar and Mitre 10 on Thursday Island.