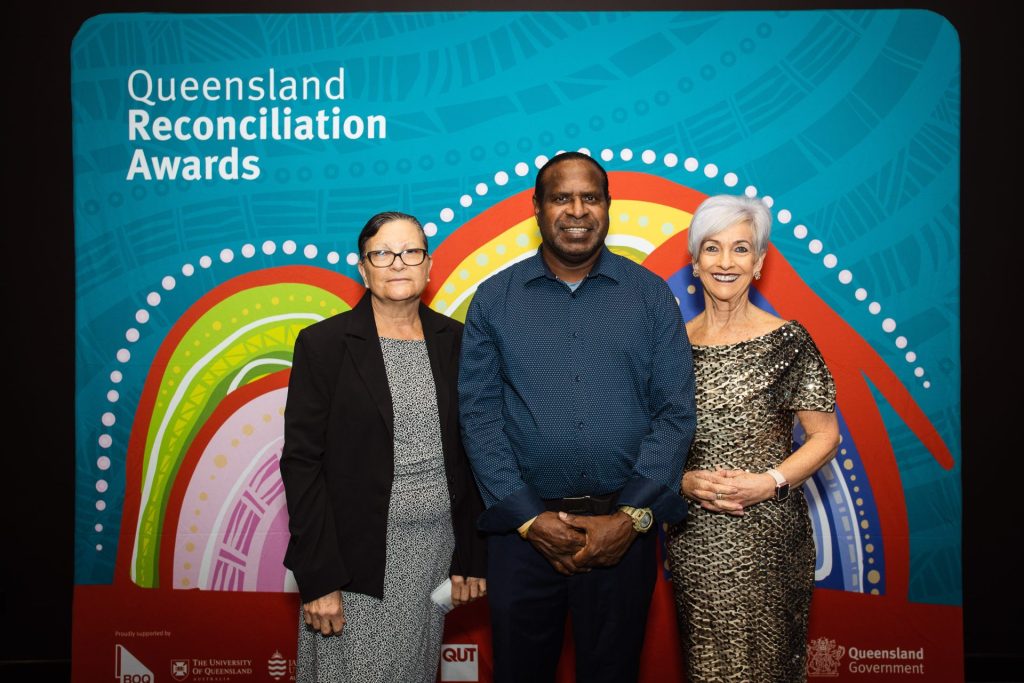 Community Enterprise Queensland (CEQ) has been recognised for its dedication to Indigenous employment and career development with a nomination at the 2023 Queensland Reconciliation Awards.
The not-for-profit remote store operator was recognised by the Queensland Government for its innovative CEQ Management Development Model, beating off competition from around the State to be nominated in the final four organisations in the award's Business category.
CEQ Chair Dr Mark Wenitong said the organisation's management model has led to 16 of CEQ's 28 stores located in remote locations in Far North Queensland being currently managed and totally operated by First Nations team members.
"We're absolutely honoured to have been nominated for this award, and it is a tribute to each and every one of our wonderful team, and the communities we work in," Dr Wenitong said.
"We provide an educational process where a culturally supportive network of mentors and trainers provide the tools and training to ensure aspiring Indigenous supervisors and managers have the confidence and capability to perform management roles.
"This nomination is great acknowledgement for all the hard work put in by our people to create career opportunities for local people in remote communities."
CEQ Chief Executive Officer Michael Dykes said he was proud that CEQ has 91 per cent of its team members in its IBIS and ABIS remote stores identifying as Aboriginal and/or Torres Strait Islander, and 53 of its 70 operational manager and supervisor roles being Indigenous employees.
"Through role modelling and reputational aspirations, our model has created and maintained employment and clearly defined career paths which contribute to a raised social fabric for Indigenous communities," Mr Dykes said.
"We believe that to employ and to develop local people into supervisors and managers is the one of the foundations to increased opportunity.
"Specifically, an opportunity for financial security, education, and training in business acumen, all of which contributes to the increased social wellbeing of our local people and our communities.
"These strategies are being realised through our employment model, which is providing a marketable workforce comprising of skilled, confident, community-minded, career-driven employees.
"We are not just community stores – we are much more than that.
"We believe this nomination is another reflection of our desire to not just deliver services, but to be truly part of the remote communities we serve, and while awards are good and this is a great achievement, we also have aspirations to do even better in the future."
–
CEQ is a not-for-profit organisation responsible for providing goods and essential services to the Torres Strait, Northern Peninsula Area (NPA), mainland Aboriginal remote communities, and Palm Island through its 28 stores.
CEQ manages Islanders Board of Industry and Service (IBIS) and Aboriginal Business, Industry and Service (ABIS) stores, as well as other stores including Col Jones, Mona's Bazaar and Mitre 10 on Thursday Island.