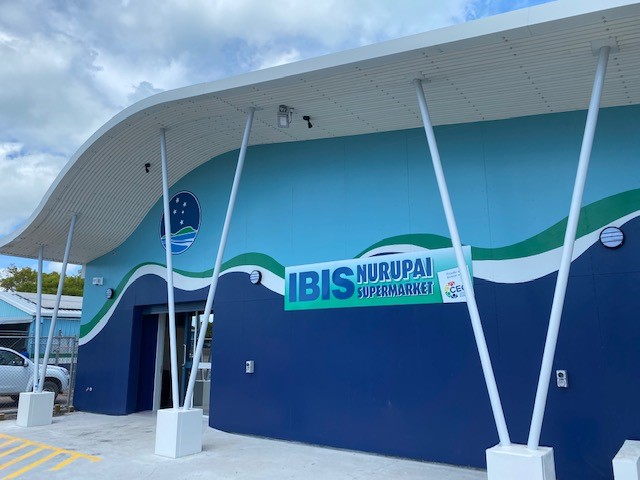 Horn Island (Ngurupai) residents will celebrate the launch of its new IBIS-branded supermarket this Thursday (29 October) with its official grand opening event.
Not-for-profit remote store operator Community Enterprise Queensland (CEQ) confirmed the new store, which has an improved, modern look and design, will include:
increased trading area from 85m² to 390m²
increased storage capacity for chiller and freezer goods.
The store will also supply the approximately 530 local residents, as well as visitors and tourists, with an extensive grocery range, including a focus on fresh fruit and vegetables.
The COVID-safe launch event this Thursday will see an official opening and ribbon cutting by Kaurareg Elder Ronnie Wasaga, as well as a blessing of the supermarket by Pastor George Nona.
Other dignitaries, including Torres Shire Council Mayor and CEQ Chair Vonda Malone, and Kaurareg Native Title Aboriginal Corporation Chairman Milton Savage, will also be in attendance.
CEQ Chair Vonda Malone said she is really pleased CEQ will deliver a first-class shopping experience for the families and community of Ngurupai and surrounding islands.
"The new expanded store will cater for the future growth of Horn Island and the Shire," said Ms Malone, who is also Mayor of Torres Shire Council.
"It's awesome to see this initiative come to fruition, and as the champion for this initiative, it has been a long time coming."
CEQ Chief Executive Officer Ian Copeland said the new supermarket is a major bonus for all Horn Island residents and visitors to Ngurupai.
"We're delighted to open a new IBIS store on Horn Island to continue to provide the best possible service to the local community," said Mr Copeland.
"The architects have done a fantastic job with a new build design which captures the essence of the Torres Strait with his colour, shape and structure.
"Our aim is for the staff and people of Ngurupai to be proud of their new store, which will provide quality fruit and vegetables, and healthy food options. This is a community store for the community."
The new Horn Island store follows the grand opening of an IBIS-branded store in Napranum earlier this year, as well as a new store on Darnley Island which is expected to open in early 2021, all part of nearly $7 million in capital spend over the past 12 months.
"These new stores show how we are reinvesting in infrastructure to increase capacity, employment, quality, range and affordability in communities," said Mr Copeland.
CEQ is a not-for-profit organisation responsible for providing goods and essential services to the Torres Strait, Northern Peninsula Area (NPA), and mainland Aboriginal remote communities through its 27 stores.
CEQ's Corporate Office is based in Cairns, and manages Islanders Board of Industry and Service (IBIS) and Aboriginal Business, Industry and Service (ABIS) remote stores, as well as other stores including Col Jones and Mitre 10 on Thursday Island.
For more information, visit www.ceqld.org.au