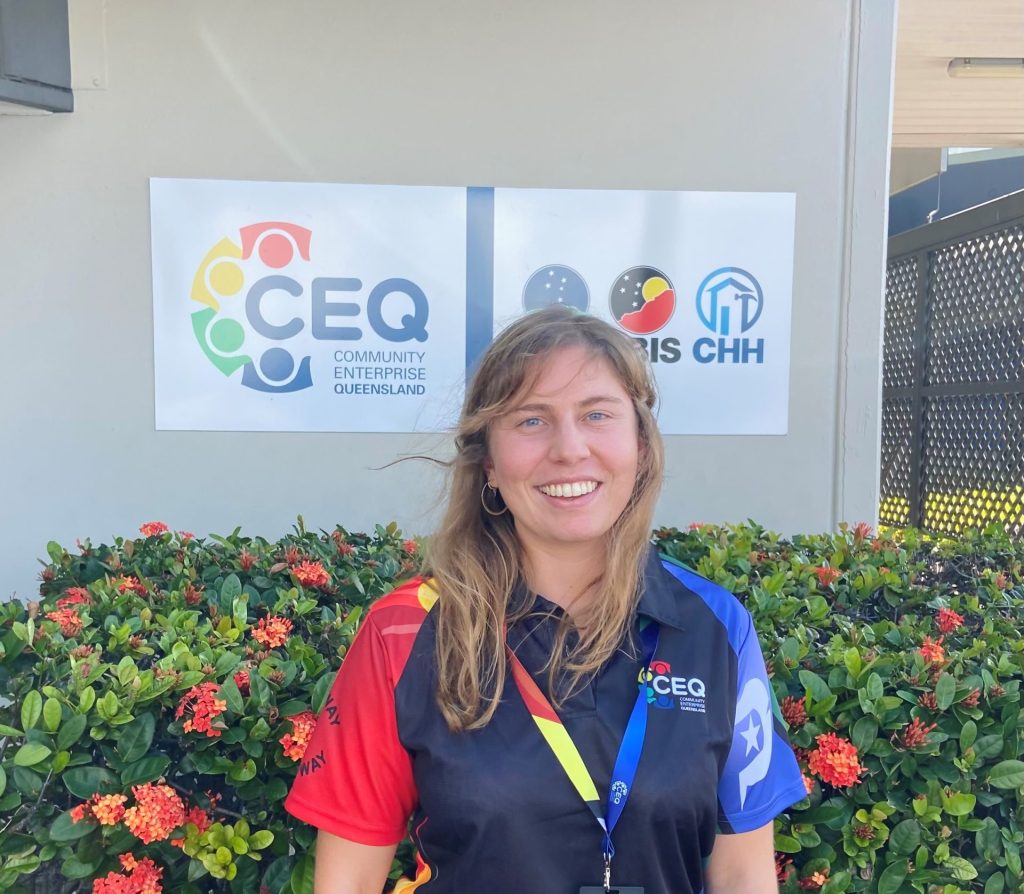 Not-for-profit retail operator Community Enterprise Queensland (CEQ) has appointed a new Store Nutritionist to help further drive healthier eating in remote Cape York and Torres Strait Islands communities.
Georgia Day will work closely with Nutrition and Wellbeing Manager Melinda Hammond at CEQ as the organisation prepares to release its 2023-2027 Nutrition and Wellbeing Strategy in the coming weeks.
She has been appointed to lead the Gather and Grow Healthy Stores project, a partnership with Health and Wellbeing Queensland, and work alongside remote store teams to improve the position of healthy food options and make it easier for customers to purchase.
Georgia said she is passionate about nutrition and improving the health outcomes of people living in remote and rural communities.
"I'm delighted to have joined CEQ and am really enjoying getting to know the communities, building relationships, and getting as much feedback and knowledge as I can," said Georgia.
"My role is focused on in-store environments and promoting health and wellbeing by encouraging customers towards healthier choices.
"My passion is creating health-enabling food environments. I'm excited to be a part of implementing long-lasting and positive changes within CEQ that will support community aspirations for health.
"It's an exciting time for the organisation, particularly with the release of our imminent Nutrition and Wellbeing Strategy which will help us achieve our vision of 'Caring, every day, always'."
Georgia has hit the ground running, and presented the findings from her Monash University honours thesis at the Dietitians Australia 2023 Conference in Melbourne this week (25-27 July).
Her paper 'Towards healthy food retail: An assessment of public health nutrition workforce capacity to work with stores' was recently published in the Australian and New Zealand Journal of Public Health.
"This was the project that kick started my learning about nutrition in remote retail, and it feels quite timely to have it come full circle now while working in a role similar to those I interviewed," she said.
"This work informed other projects, including the Health and Wellbeing Queensland Project Echo, and the Store Scout app.
"It also informed some agreements between retail organisations and health service providers in the NT.
"Presenting these findings will be a really great opportunity to wave the flag for remote retail and encourage further capacity building of the nutrition workforce to collaborate with organisations like ours."
Georgia, who graduated with a nutrition degree from Monash University in Melbourne, has also worked on public health nutrition research projects with Monash University, Menzies School of Health Research and a remote store organisation in the Northern Territory.
Ms Hammond said the appointment of Georgia in the Store Nutritionist role shows CEQ's commitment to healthy choices for its customers.
"We do take our social responsibility seriously in improving the overall health and wellbeing of the communities we serve, and we are very proactive in that space," she said.
"We've spent many years improving the quality of fresh fruit and vegetables in all our stores, so now's a perfect time for Georgia to come in and further improve on that side of our business.
"Our customers can still make a choice, we're certainly not taking that away from them, but we want to make sure we make the healthier choice, the easy choice that is well promoted in our stores.
"Georgia's a great person to help make that happen, as she's a real driving force in health promotion, and has already established a great rapport with the communities she's visited.
"We're confident that Georgia will drive change and healthier choices across our stores."
Ms Hammond added that CEQ was also seeking to appoint a First Nations Nutrition Cadet, who will work alongside Georgia in a travelling role to promote healthy eating and increase nutrition capacity in CEQ stores.
–
CEQ is a not-for-profit organisation responsible for providing goods and essential services to the Torres Strait, Northern Peninsula Area (NPA), mainland Aboriginal remote communities, and Palm Island through its 28 stores.
CEQ manages Islanders Board of Industry and Service (IBIS) and Aboriginal Business, Industry and Service (ABIS) stores, as well as other stores including Col Jones, Mona's Bazaar and Mitre 10 on Thursday Island.