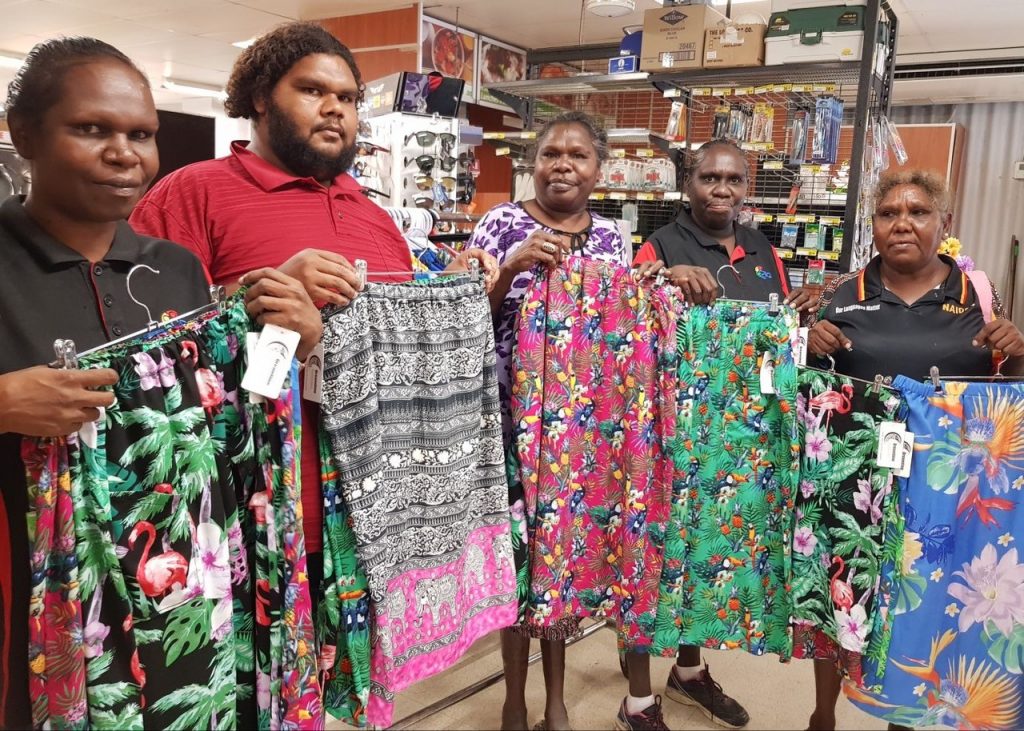 Indigenous retail operator Community Enterprise Queensland (CEQ) has launched a new partnership with the Kowanyama community to sell local produce in its Far North Queensland retail outlets.
CEQ has linked with Dreamtime Solutions, which offers training for sewing and craft projects as a host provider to five Indigenous communities across northern Australia, including Kowanyama.
CEQ is subsidising the products at a reduced sell price to make them affordable at its ABIS retail stores in Kowanyama, Doomadgee, and Lockhart River, as well as Mona's Bazaar on Thursday Island in the Torres Strait.
The stores currently stock 100 per cent Kowanyama-made elastic-waisted skirts, and are also looking to expand with other ranges, including:
pillow cases
curtains
bags
dresses
tops
jewellery.
CEQ General Manager (Merchandise) Casey Kelly said the company was proud to help empower Kowanyama women to become economically independent and create their own enterprise.
"CEQ has been proudly servicing remote communities in northern Australia for more than 100 years, and we always play an active role in the communities where we operate," Ms Kelly said.
"Giving back is a core value of our company, and we're thrilled to be able to play a role in supporting the Kowanyama community with this great initiative.
"Dreamtime Solutions is dedicated to utilising its training as a vehicle for social change, and we're proud to be involved."
Dreamtime Solutions' Renée Schoder said the company aims to help Kowanyama residents to become more financial through the sale of items they learn to make.
"Kowanyama is not situated on any tourist drive as such, therefore jobs are often limited and the transport of food and necessities makes it expensive to purchase amenities," Ms Schoder said.
"We want to help the local community to learn new and varied skills, mainly focusing on sewing, empowering them with a feeling of self-worth and making them realise that they can achieve what they initially thought may not be possible."
Community Enterprise Queensland (CEQ) is a Queensland Government statutory body responsible for providing goods and essential services to the Torres Strait, Northern Peninsula Area (NPA), and mainland Aboriginal remote communities.
CEQ's Corporate Office is based in Cairns, and manages three separate service channels – Islanders Business, Industry and Service (IBIS), Aboriginal Business, Industry and Service (ABIS), and Community Home and Hardware (CHH).
For more information, visit www.ceqld.org.au