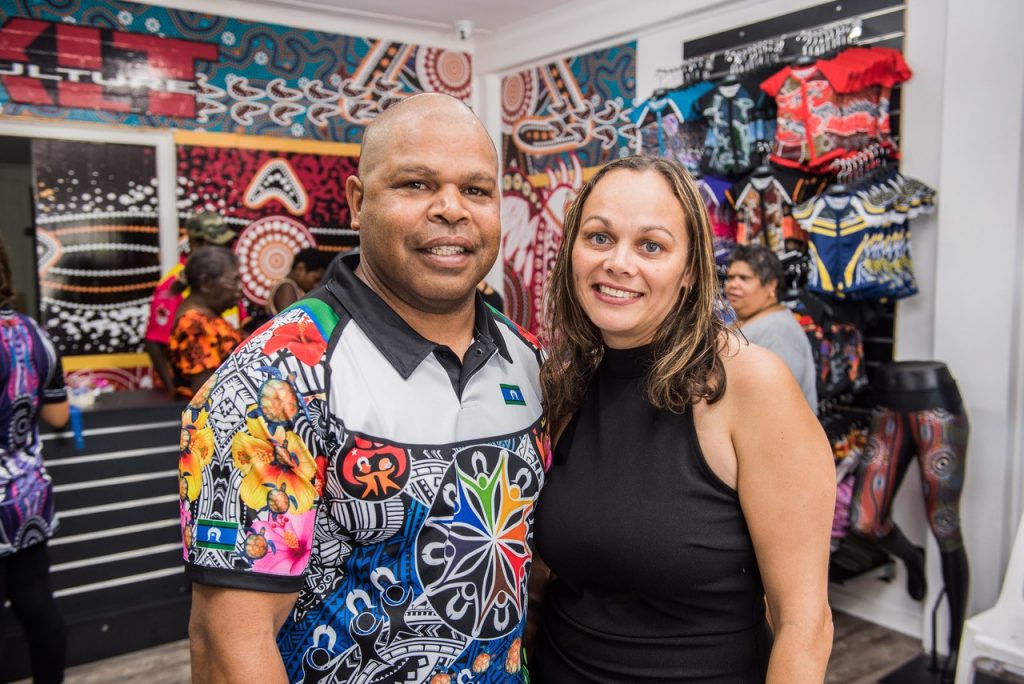 Indigenous retail operator Community Enterprise Queensland (CEQ) has launched a new partnership with the largest Indigenous retail clothing label in Australia to sell popular Aboriginal clothing in its Far North Queensland retail outlets.
CEQ has linked with Cairns-based company Kulture, a 100 per cent family owned and operated Indigenous sportswear, workwear, and schoolwear label based in Cairns, which currently offers its unique designs in over 60 stores across the country.
These stores now include for the first time 16 IBIS and ABIS stores in the Torres Strait and across Cape York Peninsula, including:
Thursday Island
Horn Island
Outer Torres Strait Islands
Bamaga
Lockhart River
Pormpuraaw, and
Kowanyama.
All clothing from Kulture, which recently opened its first walk-in store on Mulgrave Road in Cairns, is designed by artist Albert Bosen, a Thanaquwithi (Old Mapoon) Aboriginal and Wagadagam (Mabuiag Island) Torres Strait Islander man.
Kulture owner Rose Go Sam, a proud Djirrbal Aboriginal woman, said the company was delighted to partner with CEQ to help sell its clothing range in IBIS and ABIS stores.
"I started the Banggarru Deadly Business in 2008, and within six years Albert and I started the company Kulture, as we were passionate about wanting to keep our culture alive," she said.
"Indigenous people feel alive and proud when they are wearing our clothing, and we make our range to the highest possible standard.
"It's great to have our clothing on sale throughout stores in Cape York and the Torres Strait, and is something of a dream for us."
CEQ Chief Executive Officer Ian Copeland said CEQ was proud to partner with an organisation such as Kulture.
"CEQ has been proudly servicing remote communities in northern Australia for more than 100 years, and looks to partner with inspirational companies like Kulture wherever possible," Mr Copeland said.
"Kulture is a fantastic local success story, with Rose and Albert turning their initial online business into now Australia's biggest selling Indigenous clothing company.
"Kulture's clothing range is in high demand across the communities we service, so we felt it was a great opportunity to partner with Kulture and sell their range in-store.
"Kulture is dedicated to keeping Indigenous culture alive, and we're proud to be involved."
Community Enterprise Queensland (CEQ) is a Queensland Government statutory body responsible for providing goods and essential services to the Torres Strait, Northern Peninsula Area (NPA), and mainland Aboriginal remote communities.
CEQ's Corporate Office is based in Cairns, and manages Islanders Board of Industry and Service (IBIS) and Aboriginal Business, Industry and Service (ABIS) remote stores, as well as other stores including Col Jones and Mitre 10 on Thursday Island.
For more information, visit www.ceqld.org.au