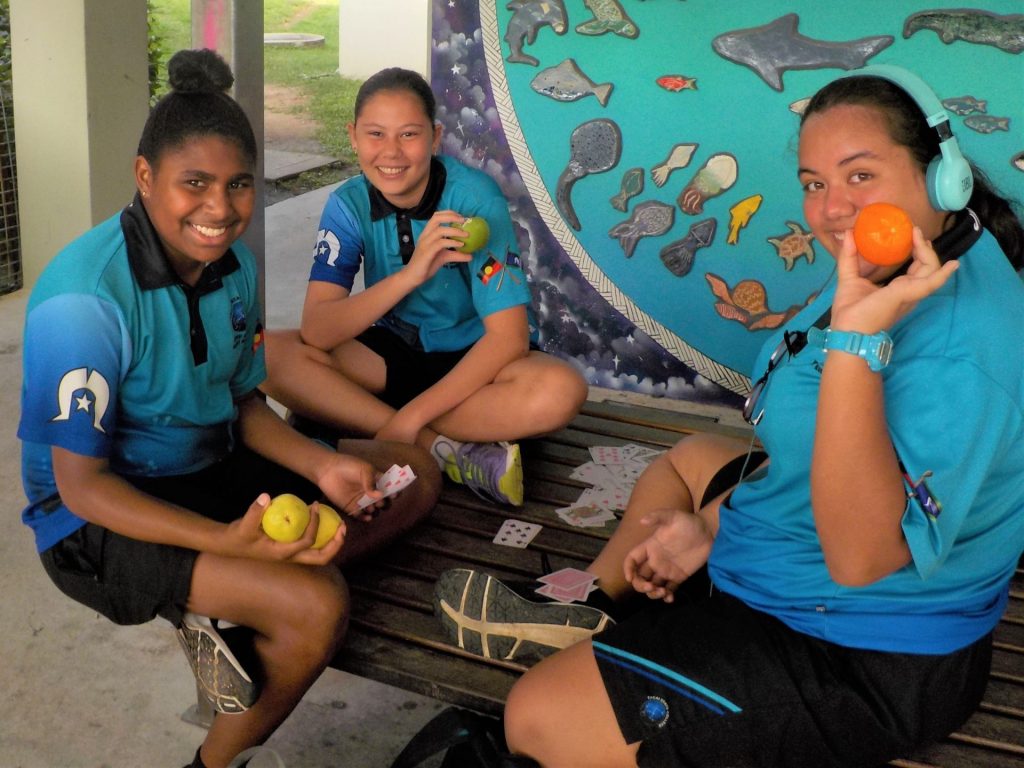 Indigenous retail operator Community Enterprise Queensland (CEQ) has teamed up with Tagai State College on Thursday Island to launch a healthy eating initiative for the school's students throughout Term 1 2019.
Through its IBIS retail store chain in the Torres Strait, CEQ has provided Tagai Secondary Campus with healthy food and drink for its Big Bala Big Sissy Mentoring Group Breakfast Club.
Tagai Secondary Campus Year 10 Coordinator Lauren Fisher said the purpose of the breakfast club is to educate students on the importance of eating a healthy breakfast to ensure they are ready for the day.
"We're encouraging students to understand how to make healthy choices for their lifestyle, as well as it being an incentive to improve overall school attendance," Ms Fisher said.
"The group started off the term by making toast for other students, and have now moved onto walking around the playground before school and promoting healthy eating by offering the students the option to have fruit as a healthy snack.
"It's been great to see the students embrace the healthy eating concept, and we'd like to thank CEQ and IBIS for their valuable support."
The Big Bala Big Sissy Mentoring Group, which has been running the breakfast club program every Monday during Term 1, was formed last year at Tagai State College.
"They are students who have volunteered to be part of a mentoring program," said Ms Fisher.
"Last year, they acted as teachers in wellbeing lessons with Year 7s, and now in 2019 they are suggesting an initiative each term, with Term 1 being the breakfast club.
"By the Big Balas and Big Sissys completing this initiative this term, it has not only promoted healthy eating, but has also built positive relationships between students."
Dagum Tipoti, Year 10 Leader and Big Sissy mentor, said: "The breakfast club is helping students start the day with a healthy and active brain to focus in class."
Jalyn Ahmat, also a Year 10 Leader and Big Sissy mentor, added: "The breakfast club helps students know what they should be eating for breakfast, and it has helped me as a Big Sissy to build relationships and interact with students that I wouldn't usually."
CEQ Chief Executive Officer Ian Copeland said IBIS supports Aboriginal and Torres Strait Islander people through various nutrition programs such as the IBIS Healthy Choice and Healthy Eating, Healthy Life programs.
"These programs aim to provide on-the-ground champions for healthy eating and healthy lifestyle choices," he said.
"The breakfast club was a perfect opportunity to collaborate and work together with Tagai State College to achieve many of the goals of these programs.
"CEQ has been proudly supporting remote communities in northern Australia for more than 100 years, and looks to support the communities we service wherever possible.
"Tagai State College deliver some great initiatives for its students, and we're proud to be involved."
Community Enterprise Queensland (CEQ) is a Queensland Government statutory body responsible for providing goods and essential services to the Torres Strait, Northern Peninsula Area (NPA), and mainland Aboriginal remote communities.
CEQ's Corporate Office is based in Cairns, and manages Islanders Board of Industry and Service (IBIS) and Aboriginal Business, Industry and Service (ABIS) remote stores, as well as other stores including Col Jones and Mitre 10 on Thursday Island.
For more information, visit www.ceqld.org.au