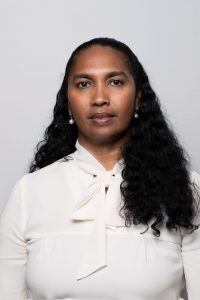 Torres Shire Council Mayor Vonda Malone has today announced the new Board of not-for-profit remote store operator Community Enterprise Queensland (CEQ).
Mayor Malone continues to retain the position of Chairperson, which she was initially appointed to in October 2019, continuing a long association with CEQ/IBIS.
Mayor Malone was elected as the first female Mayor of the Torres Shire in 2016 and is a previous IBIS/CEQ Board Member.
"I am once again pleased to take on this important role that is so integral to maintaining food security in our remote Indigenous communities," Mayor Malone said.
"My previous experience as CEQ Board Chair provides an opportunity to continuously improve our retail services so that we provide a modern consumer orientated and affordable experience."
In addition to Mayor Malone's reappointment, new roles have also been announced for two existing CEQ Board Members.
Dr Mark Wenitong, Health Practitioner, will take on the role of Community Public Relations & Marketing Committee Chair, while Mr Michael Aw is the new Finance Audit Risk & Governance Committee Chair.
Dr Wenitong, is an Indigenous Public Health advisor and brings extensive expertise and experience to CEQ.
He works on health reform across Cape York Aboriginal communities and has a deep understanding of both clinical and policy work in the region.
Mr Aw has extensive experience in the retail industry, being the founding director of The Good Guys in Cairns – one of the most successful stores of its kind in the nation.
Other returning Board Members are Mayor Mislam Sam, Ms Elverina Johnson, Mr Pedro Stephen, and Mrs Margot Richardson.
"The Board Members bring with them a wealth of experience, and we look forward to their continuing leadership of the organisation," said CEQ Chief Executive Officer Ian Copeland.
CEQ is a not-for-profit organisation responsible for providing goods and essential services to the Torres Strait, Northern Peninsula Area (NPA), mainland Aboriginal remote communities, and Palm Island through its 28 stores.
CEQ's Corporate Office is based in Cairns, and manages Islanders Board of Industry and Service (IBIS) and Aboriginal Business, Industry and Service (ABIS) remote stores, as well as other stores including Col Jones and Mitre 10 on Thursday Island.
CEQ Board (as of July 2021):
• Ms Vonda Malone (Chair)
• Dr Mark Wenitong (Community Public Relations & Marketing Committee Chair)
• Mr Michael Aw (Finance Audit Risk & Governance Committee Chair)
• Mayor Mislam Sam
• Ms Elverina Johnson
• Mr Pedro Stephen
• Mrs Margot Richardson
(Note: The Employment Training & Safety Committee Chair is still to be elected).