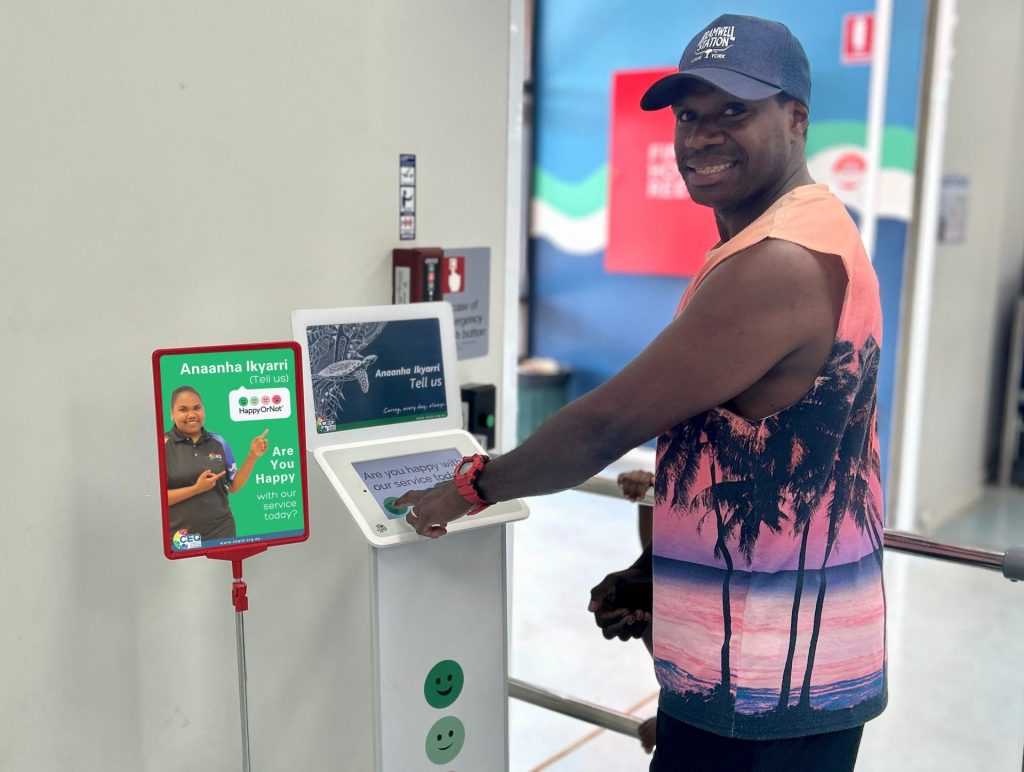 Not-for-profit remote store operator Community Enterprise Queensland (CEQ) is proud to announce the successful official launch of its 'Tell Us' customer feedback kiosks in remote store locations across North Queensland.
The rollout of the kiosks to all 28 CEQ remote stores began last week with the highly-successful early installation of kiosks to four CEQ stores – Bamaga, Waibene (Thursday Island), Palm Island and Ngurupai (Horn Island).
The 'Tell Us' kiosks, created by worldwide customer engagement company HappyOrNot, allows CEQ customers to share feedback simply and instantly via the kiosk's user friendly 'smiley faces' while their shopping experience is still fresh in their mind.
The current CEQ rollout follows a successful trial run in four remote stores earlier this year, which demonstrates CEQ's commitment to refining the customer feedback process.
CEQ Chief Executive Officer Michael Dykes said the innovative initiative signifies CEQ's unwavering commitment to fulfilling its vision of Caring, Every Day, Always.
"At CEQ, we're passionate about enhancing customer experiences and fostering a deeper connection with the communities we serve," Mr Dykes said.
"Our customers in Bamaga, Waibene, Ngurupai and Palm Island are already embracing the opportunity to provide valuable feedback on their store experiences, and we look forward to rolling out more kiosks across our other stores.
"This initiative reflects CEQ's dedication to actively listen to and address the needs and preferences of our customers."
Key highlights of the CEQ 'Tell Us' kiosk initiative include:
Local language inclusion: CEQ to include local Indigenous languages on the kiosk signage. This approach fosters inclusivity and ensures that everyone has a voice in the feedback process.
Expanded feedback options: CEQ has expanded the kiosk's feedback options to comprehensively assess areas of customer satisfaction and dissatisfaction. The four key questions on the CEQ kiosks enable customers to provide insightful input:

Are you happy with our service today?
What could be improved?
What was good?
Would you like to add anything? (opportunity for open feedback).
"Our primary goal is to collect valuable customer feedback to enhance our service quality," said Mr Dykes.
Fred Gela, CEQ General Manager (Stakeholder Engagement), said more than 11,000 customer feedback responses were received within the three-month trial period at Waibene, Palm Island, Ngurupai and Bamaga, with 74 per cent of customers happy with the service they received, and 68 per cent happy with the range of healthy options that were available at these locations.
"The system data is live and reports in real time, allowing our teams to identify and implement business improvement strategies in response to any negative feedback from customers," said Mr Gela.
"For example, we received feedback from some customers that they felt they were waiting too long at the checkout at certain times.
"This resulted in us adjusting our rosters, ensuring varying peak periods at each location have sufficient checkouts open – ultimately reducing customer waiting times.
"The versatility of the system has allowed CEQ to effectively engage with the four communities, seeking their views on important matters.
"For example, we asked our customers whether zero per cent (non–alcoholic) beverages should be made available to purchase in store locally at these locations, and 66 per cent responded with 'yes' to this question, so we've now put this in place."
–
CEQ is a not-for-profit organisation responsible for providing goods and essential services to the Torres Strait, Northern Peninsula Area (NPA), mainland Aboriginal remote communities, and Palm Island through its 28 stores.
CEQ manages Islanders Board of Industry and Service (IBIS) and Aboriginal Business, Industry and Service (ABIS) stores, as well as other stores including Col Jones, Mona's Bazaar and Mitre 10 on Thursday Island.