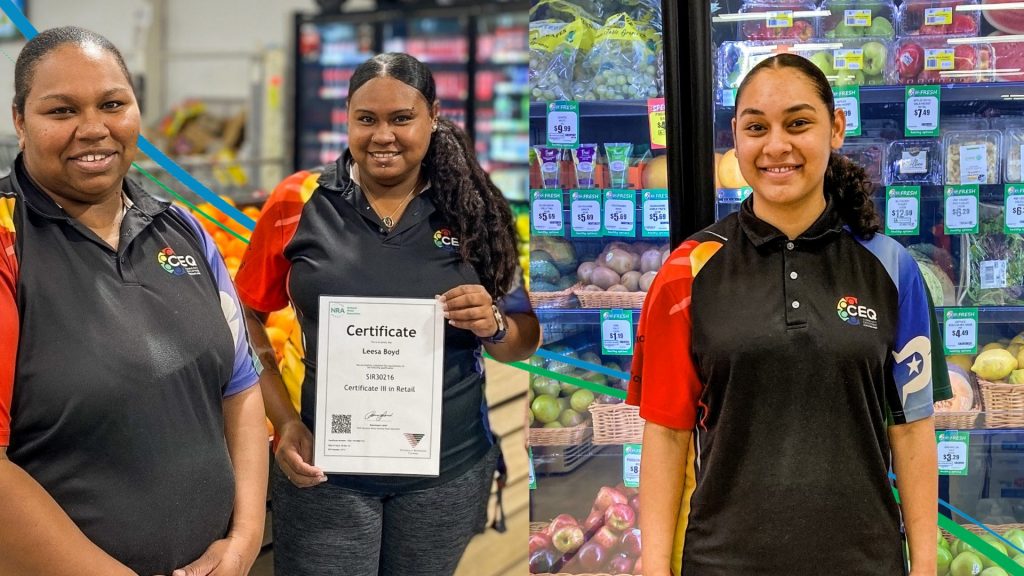 Two Indigenous team members at remote store operator Community Enterprise Queensland (CEQ) are celebrating after completing milestones in their retail careers.
Torelle Passi-Iosia, known as Esther to her colleagues, has not only recently started her Certificate III in Retail, but has also been appointed as Store Supervisor at CEQ's Napranum store.
CEQ Chief Executive Officer Michael Dykes said Esther's achievements were all the more remarkable as she had reached these successes at just 18 years of age.
"Esther has been a shining light at our Napranum store, furthering her skills across the store and being an outstanding member of our CEQ crew," he said.
"She's already indicated she wants to run her own store one day, and the way her career is progressing, she's well on track to achieve that dream."
Banking Officer Leesa Boyd, based at IBIS' main store on Thursday Island, is also celebrating after completing her Certificate III in Retail.
Mr Dykes said Leesa fully deserved to receive her qualifications from the National Retail Association.
"Leesa has been with us for several years now, having previously completed her Certificate II while at CEQ," he said.
"We're delighted to have supported Leesa to enhance her career profile to include skills such as handling food safely, engaging and assisting with customers, and working in a team environment."
The nationally-recognised qualification provides a pathway to work in a diverse range of retail settings including supermarkets, specialty retailers, department stores, and quick service restaurants.
Mr Dykes said CEQ was passionate about providing opportunities for its employees, the majority of which are Torres Strait Islander or Aboriginal peoples.
"We have a real desire to establish local people in local jobs, and we can help achieve this by investing in the future, as shown throughout all our stores," said Mr Dykes.
"Esther and Leesa are an absolute credit to CEQ, themselves, their families, and their communities in general.
"They continue to show outstanding dedication and expertise in their work, and we're all thrilled at their achievements.
"They're just another example of the opportunities CEQ creates in building capabilities and skill-sets in communities for Indigenous people across Far North Queensland.
"We're proud to have them as part of the CEQ family and hope they inspire others to do likewise."
CEQ is a not-for-profit organisation responsible for providing goods and essential services to the Torres Strait, Northern Peninsula Area (NPA), mainland Aboriginal remote communities, and Palm Island through its 28 stores.
CEQ's Store Support Office is based in Cairns, and manages Islanders Board of Industry and Service (IBIS) and Aboriginal Business, Industry and Service (ABIS) mainland stores, as well as other stores including Col Jones and Mitre 10 on Thursday Island.
For more information, visit www.ceqld.org.au