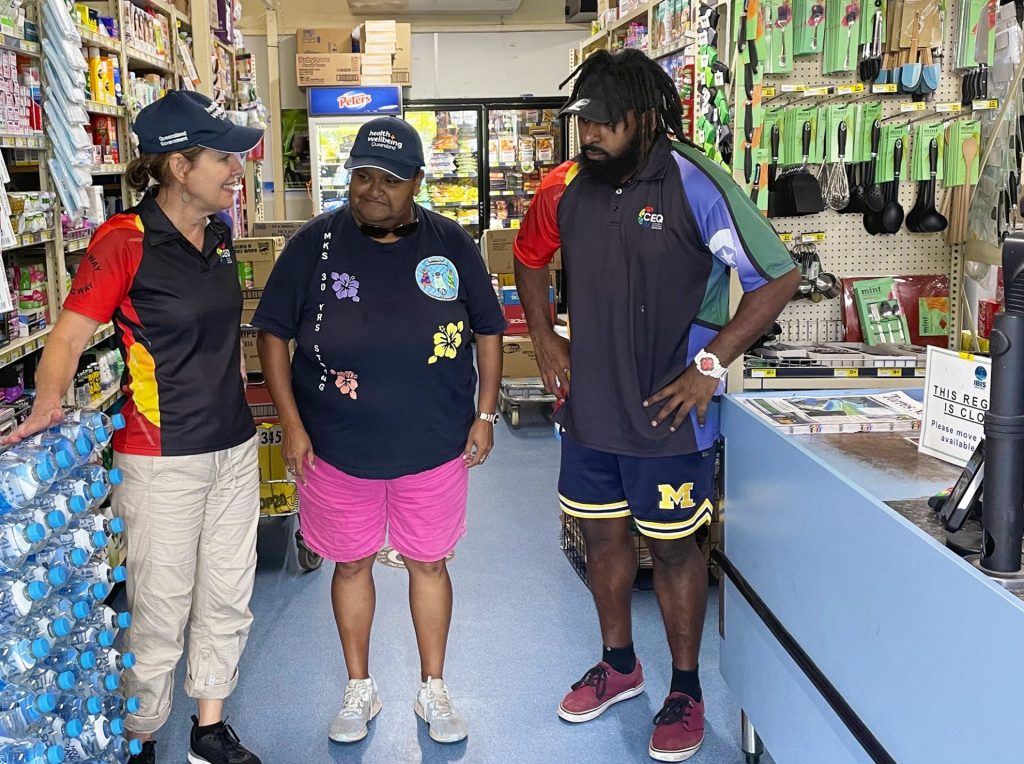 Not-for-profit remote store operator Community Enterprise Queensland (CEQ) has highlighted a range of measures it has undertaken to alleviate customer cost pressures as the region prepares for next week's important Queensland Government Cost of Living Summit in the Torres Strait.
The Palaszczuk Government will host the Cost-of-Living Summit on Thursday Island on Monday (20 March) to discuss how a higher cost of living in the Torres Strait and Northern Peninsula Area (NPA) is affecting local communities.
The annual inflation rate in Australia has climbed to 7.8 per cent over the year to December 2022, which is the highest annual figure since 1990, while CEQ also faces the higher ongoing costs associated with running remote stores, including increased freight, power, maintenance, and fuel costs.
In response, CEQ has introduced a range of measures under its Vision of 'Caring, every day, always' to help customers' daily living costs, including:
Weekly checks on market pricing – in a recent basket comparison between fruit and vegetable items, CEQ priced in at $31.20 cheaper than a remote mainland FoodWorks store.
One price for fresh produce and meat products across all CEQ stores – for example, customers in the Outer Torres Strait Islands pay the same as those on Waibene (Thursday Island).
In an effort to reduce the cost-of-living pressures, many supplier increases have been absorbed by CEQ instead of passing them onto customers. In the first half of this financial year, CEQ absorbed more than $760,000 in supplier price increases.
CEQ's Merchandise and Supply Team leverage price reductions and savings from suppliers through promotions, passing on more than $460,000 of savings in the last six months.
Wet season road closures and runway damage have necessitated the charter of additional freight flights. These additional food deliveries see CEQ's wet season freight costs increase to more than $1.3 million annually, which is absorbed by CEQ and does not result in a price increase for customers.
CEQ Chief Executive Officer Michael Dykes said the Cost of Living Summit was a great opportunity to listen and actively contribute based on CEQ's retail expertise, and knowledge of the region and its cost drivers.
"Like everyone else, we are concerned about the current rate of inflation and the impact this is having on the communities we serve," Mr Dykes said.
"Average freight costs have increased 12 per cent in two years, and CEQ does not raise our prices to cover freight costs, we absorb them over the entire business.
"We also have cost burdens not faced by other store operators, such as requirements for satellite IT back-up and back-up power generators, with the most recent generator costing $500,000 at our main Waibene store.
"The upcoming summit will allow us to work with other key stakeholders to find solutions for the benefit of local communities across the Torres Strait and Cape York."
Mr. Dykes said CEQ also has plans for further benefits to the community under its 'Caring, every day, always' Vision, including:
Introduction of a nutritionist and supporting health improvement programs, such as school breakfast programs and fruit breaks for children
Introduction of a scholarship framework to support students in education, and provide career opportunities
Expansion of a stakeholder engagement function to support emerging local enterprise
Financial and expertise support for business start-ups
Increased support of ceremonial and cultural events.
"We've got some exciting plans for the future that will demonstrate this new vision in action," he said.
"We want CEQ to continue to deliver affordable groceries to families in some of the most remote parts of Australia to ensure that the communities where we operate enjoy the same quality and choice as people living in larger centres at the best possible price."
–
CEQ is a not-for-profit organisation responsible for providing goods and essential services to the Torres Strait, Northern Peninsula Area (NPA), mainland Aboriginal remote communities, and Palm Island through its 28 stores.
CEQ manages Islanders Board of Industry and Service (IBIS) and Aboriginal Business, Industry and Service (ABIS) stores, as well as other stores including Col Jones, Mona's Bazaar and Mitre 10 on Thursday Island.
For more information about CEQ, please visit our home page
Story Update
$64 Million Freight Relief Package announced by State Government at Cost of Living Summit – 21st March 2023
Read about it in the Cape York Weekly article